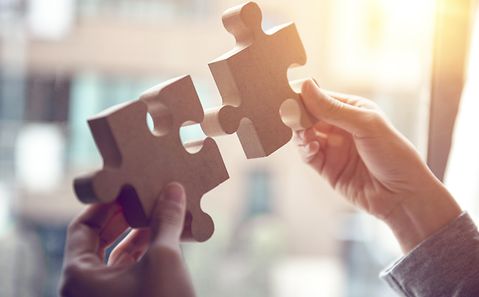 Information on the Processing of Personal Data
within conducting a business relationship
The information below provides you with an overview of the processing of your data (hereinafter "data") by the Arvato Systems Group as well as your data protection rights.
Who Is Accountable (Data Controller) for the Processing of My Data?
The respective company of the Arvato Systems Group with which you have a business relationship is responsible for processing your personal data and addressee of your rights as a data subject. The Arvato Systems Group acts under the joint responsibility of all companies solely for the purpose of conducting marketing activities and pre-contractual measures. We process personal data in accordance with the provisions of the European Data Protection Regulation (hereinafter "GDPR") and the Federal Data Protection Act (hereinafter "BDSG").
You can contact our data protection officer via the postal address of the respective legal entity noting "Attn: Data Protection Department" or via the e-mail address: datenschutz@arvato-systems.de, phone: +49-5241-80 70785.
What Are the Purposes of My Data Being Processed and What Is the Legal Basis?
We process your personal data for the purposes of pursuing, establishing, and conducting a business relationship between you and our corporate group. Art. 6 I lit. b or f GDPR serves our company as the legal basis for this. 
Processing operations with the scope of business relationship may also be based on Art. 6 I lit. f GDPR. This may involve the following purposes:
Optimization of our business processes (e.,g. processing of your contact data as well as business contact reports and your marketing characteristic in our CRM, electronic review or signature of documents)
Access to customer portals: Unless otherwise specified, only technically necessary cookies are used on customer portals to ensure user-friendly operation of the portal (e.g., to identify or authenticate users).
Existing customers advertising for information purposes as well as sales promotion: Marketing activities may include, but are not limited to, anonymous or personalized customer surveys and the sending of information about our products and services, which we may derive from the use of our services and tailor to your interests. You have the option to communicate to us at any time that you no longer wish to receive marketing letters in the future. 
Am I Obligated to Provide Data?
In order to carry out the processing purposes described above, your personal data is required if it is collected in accordance with legal requirements. Without this data, we will generally be unable to perform processing.
Who Receives My Data?
We use service providers (contract processors) who are bound by instructions and who only have access to your data to the extent and for the period necessary for the provision of the services. If these service providers process your data outside the European Union, this may result in your data being transferred to a country that does not guarantee the same data protection standard as the European Union. However, such a level of data protection can be guaranteed with a suitable guarantee. When selecting service providers, Arvato Systems takes the necessary steps to contractually ensure an equivalent level of data protection.
We share your contact information with all companies of the Arvato Systems Group. The level of data protection in third countries is ensured by adequacy decisions and EU standard contractual clauses.
How Long Will My Data Be Stored?
Data we process will be deleted in accordance with Articles 17 and 18 GDPR as soon as they are no longer required for their intended purpose unless their deletion is not permitted pursuant to legal retention requirements. If data are not deleted due to being required for other legally permissible purposes, the data are held in restriction and may not be processed for other purposes.
What Rights Do I Have Respecting My Data?
You have the right to request access to your personal data, which are currently stored by us. Where these data are incorrect or not up to date, you have the right to request rectification. In addition, you can request erasure and/or restriction of your data where the criteria are set out in Art. 17 and 18 of the GDPR are met. Where our processing of data provided by you is based on your consent or is subject to a contract, you may request a copy of these data in a structured, common, and machine-readable format (right to data portability).
You have the right to object to the processing of your data, Art. 21 GDPR. 
If you have given us consent to process your personal data for specific purposes, you have the right to withdraw this consent at any time with effect for the future.
If you wish to exercise your rights or have general questions regarding data protection within the Arvato Systems Group, you may contact us at any time via the above contact details. You also have the option of contacting a data protection authority and filing a complaint.
Is My Data Processed by Means of Automated Decision-Making, Including Profiling?
Your collected data is not utilized for automated decision making or profiling.
Conclusion / Version Information
In the course of further development of Arvato Systems services, changes to this privacy policy may become necessary. We, therefore, recommend that you read this privacy policy again from time to time.